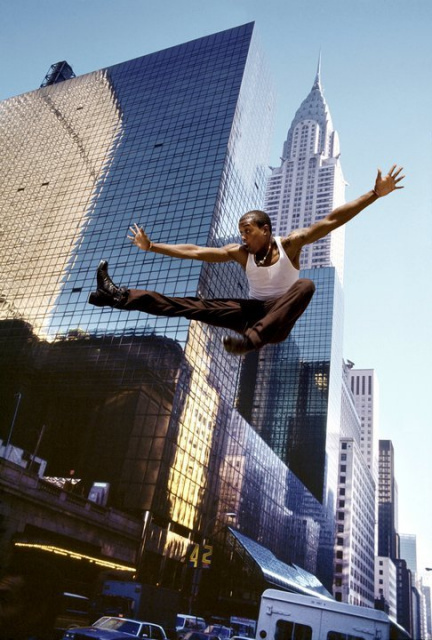 Born and raised in Los Angeles, CA, Christopher Broughton began dancing at the age of 12 and never looked back. Under the instruction of Paul and Arlene Kennedy at Universal Dance, he immediately became a member of the Kennedy Tap company, world renowned and responsible for such tap greats as Derick Grant and Dormeshia Sumbry-Edwards, the latter of which he had the pleasure of performing as cast mates in his first Tony, Astaire and Drama Desk Award winning Broadway show After Midnight. Broughton's dancing has also led to National recognition with the NAACP ACT-SO Award not once, but twice. An an instructor, performer and choreographer, his art has taken him everywhere from St. Louis and Washington D.C. to Brazil, Finland, Cuba, Italy, Germany and beyond.
In 2007, hardship struck Broughton's life when he spent over a year recovering from three gunshot wounds to the left leg. He has very much returned at the peak of his game. Since his triumph, Broughton has performed and toured the world with such greats as Jason Samuels Smith, Chloe Arnold, R&B singer MYA and Ted Levy. Company work has included national and international tours at pretigious venues with Dorrance Dance, Rasta Thomas' Tap Stars, Jason Samuels Smith's A.C.G.I. and Magic Of The Dance; as well as participating in both acclaimed runs of The Cotton Club Parade at NY City Center. Christopher's athletic choreography, courage and charisma are currently in the highest demand and he tours worldwide as a featured soloist, instructor and coach. Christopher Broughton owes his sincerest gratitude to his sister Chantel Heath, who introduced him to the world of dance, Tonie Nicholas, son of the legendary Fayard Nicholas, and Paul and Arlene Kennedy; without whom, he wouldn't be where he is today.
REVIEWS:
"The world premiere of "Jungle Blues" unleashed undulating torsos, rolling hips, and shimmying shoulders. Knees and feet swiveled side to side like well-oiled levers, and dancers slid across the floor and balanced on toes. Chris Broughton showed off acrobatic splits and flips." - Karen Campbell, The Boston Globe (Dorrance Dance Review)
"For unflinching style and wit… the single, slickest synchronized male corps on Broadway featuring modern dance notable Desmond Richardson, Christopher Broughton, C.L. Edwards. Daniel J. Watts and Bobby Daye." -(After Midnight Review), Eye On Dance & The Arts
"Most successful — and confident — is (Amber Riley's) rendition of "On the Sunny Side of the Street," aided by dancers Christopher Broughton and C.K. Edwards." -(Cotton Club Parade), Associated Press
"An exciting Tap Dancer Christopher Broughton closes the fifteenth Choreographic Showcase of Olbia".
- Olbia Danza, Italy