Saturday night's Women in Tap Concert was the crowning performance of the first ever Women in Tap Conference, held this weekend at UCLA and organized by Lynn Dally, adjunct professor of World Arts and Cultures and one of the trailblazing women responsible for tap's resurgence starting in the 1970s. The conference aimed to recognize four generations of women from tap's 100 year history and—through panel discussions, documentaries, and presentations—tell the stories of female dancers previously left out of the history books.
The performance featured solos by fourteen of tap's most renowned women, a triumphant display given the struggles women faced in being taken seriously as soloists in a historically male field. Chloe Arnold's piece captured this spirit perfectly. She adapted Maya Angelou's poem "Phenomenal Woman" to a spoken word/tap number. Echoing the sentiment that the women who came before her fought for "the right to choose how I step on the floor," Arnold switched from heels to flats halfway through the piece.
Deborah Mitchell also gave a nod to her tap elders with a piece that reenacted tap lessons with her mentor Bubba Gaines of the Copasetics. Brenda Bufalino paid homage to her musical muse Charles Mingus in a tap-meets-beat-poetry performance set to "My Mind's on Mingus." Tap legend Miriam Nelson, who had an expansive career tapping in and choreographing for film, brought an old Hollywood "let me entertain you" whimsy to her performance of "Fascinatin' Rhythm."
Aside from these direct references to the historical, the show demonstrated the enormous range of stylistic and aesthetic choices available to women now that they're accepted on equal footing with men in the field. Acia Gray's ultra smooth and muscular styling contrasted with the spunky spot-on turns of Terry Brock. Barbara Duffy's fierce footwork was juxtaposed to Lynn Dally's hymn-like reverie. Heather Cornell's earthy duet with the piano felt worlds away from Linda Sohl's experimental duet with husband Monti Ellison's berimbau, a one-string Brazilian percussion instrument. Dormeshia Sumbry Edwards seemed to weave multiple styles together, at once smooth and staccato, aggressive and demure.
The showstopper of the night was a three-way improvisation between the three youngest dancers, rising stars Michelle Dorrance, Chloe Arnold, and Josette Wiggan. Dorrance's furious speed, Arnold's hard-hitting exuberance, and Wiggan's nimbleness brought the audience to their feet. Despite the diversity of styles and ages showcased at the concert, it was a true demonstration of what Deborah Mitchell called "sisters in rhythm."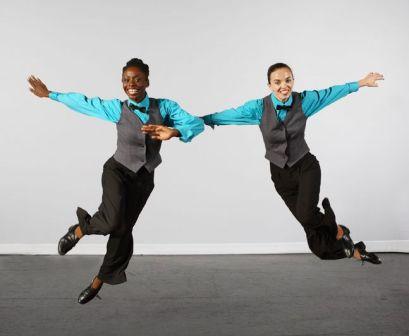 Josette Wiggan and Michelle Dorrance
Photo courtesy of Rose Eichenbaum