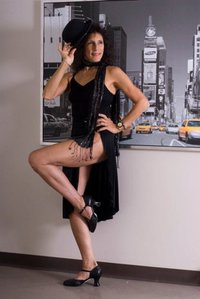 Sue Samuels (Teacher, Choreographer, Performer) has established herself as one of the staples of the performing arts community of today. With over 35 years of experience, her expertise is often sought after for mentoring and coaching purposes by professionals and aspiring artists from around the world. Her students have included numerous stage, film and tv stars including Melba Moore, Brooke Shields, and Irene Cara.

Performance and choreographic credits include lead dancer and assistant choreographer in such shows as Got Tu Go Disco at the Minskoff Theater on Broadway, The Johnny Hallyday Show in Paris, The Brazil Export Show in Rio de Janeiro to name a few. Televised credits include "All My Children", "Jerry Lewis Telethon", "Contemporary Women", "the Arthritis Telethon with Melba Moore", "Zoom", and numerous commercials and industrials for Dr. Pepper, 7 Up, Wheat Thins, Head & Shoulders, Adidas, Glaxo, Members Only among others.

Sue Samuels was the co-founder/owner of Jo Jo's Dance Factory in New York City for ten years, which later became Broadway Dance Center. Ms. Samuels was also the director of the Jazz Department and founded the Jazz program for Children at the Ft. Lauderdale Ballet in Florida, and ran her own Children's program in Boca Raton for five years. Ms. Samuels was commissioned to teach at New York University in the Cap 21 program with theter majors, as well as Olympic Gymnastic Instructors in Tokyo, Japan. Other teaching credits include The Broward Civic Ballet., Frank Hatchett's Professional Childrens Program, Dance Masters Association, and The Dance Company of Haiti. She continues to travel around the world for master classes often held forTeachers & Instructors. In turn, groups come to study her unique Jazz Style. She is currently on the teaching faculty at Broadway Dance Center (since 1986), The Ailey Extension, and is performing as a part of the Move Free Dancers. Most recently, she formed two professional companies known as Jazz Roots and Jazz Roots II which showcase traditional jazz dance styles and repertory.